Hello Everybody! It's Maria here today and I am so excited to be sharing this card today because the Adorable collection was released yesterday in the UK! This collection of stamps is full of "adorable" critters and for today's card I've used Sammy Takes It Easy. This set has three different sloth images, leaves, vines and flowers and quite a few great sentiments. I love this sleepy sloth and decided to use him for my card. I started out by stamping him onto watercolor paper. Then I used a Sharpie marker to extend the tree branch so that it reached across the whole card. Then, I cut along the top of the sloth and along the branch so that I could pop the sloth up on my card. Next I stamped the hanging vines onto the tree branch. I also stamped some extra leaves and flowers so that I could color those in as well.
I used my Nuvo Aqua Flow Pens and a paint brush to watercolor all of my images. I'll list the colors at the bottom of the post for you. I cut out all of my images by hand but if you are in the UK you can purchase the coordinating dies for this set. After cutting out my leaves and flowers I decided how I wanted them to fit behind the sloth and then adhered them in the right place. I adhered the card front by popping it up on foam adhesive to give it a bit of dimension.
My background is watercolored using Nuvo Aqua Flow markers and you can't tell from the picture but it's actually very sparkly. I splattered the background with my Glitter Gloss pen and it's really shimmery in real life. The sentiment is stamped in Nuvo Hybrid Black Shadow Ink. I did have to stamp it multiple times to get a crisp sentiment because I was stamping on watercolor paper. Luckily, this was easy because I used my Tonic Stamp Positioner to do this. The final touch on my card was to add some highlights with a white gel pen.
That is it for today you guys. It is nearly 3am here in California and I've got to get up soon to head off to work. I hope you all have an amazing day!
Maria
PRODUCT LIST: TONIC UK (Please scroll down for links to Tonic USA)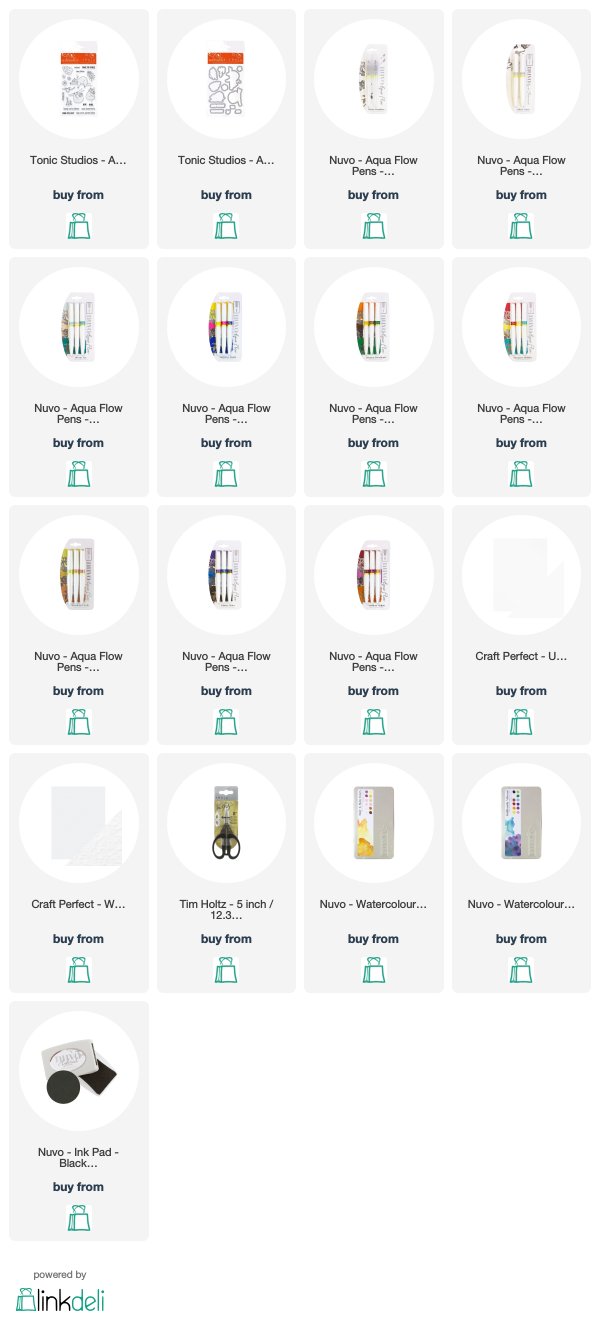 PRODUCT LIST: TONIC USA