Hey Everybody! It's Maria (Cardbomb) here today with a fun way to use your Nuvo Shimmer Powders. I love using my Shimmer Powders to watercolor and wanted to share how I used them to watercolor on black cardstock. They look so metallic and vibrant against the black that you can achieve quite a different look than you do on white cardstock. I've made a video tutorial sharing how to do this so be sure to check that out if you are interested (the video is at the bottom of the post).
I started out by heat embossing the sentiment from Little Something for Harry in white, then masking the sentiment off using a post it note that I cut out with my rectangle dies. Then, using my stamping platform and this gorgeous floral stamp from the Dainty Daisies set I repeatedly stamped the flower in Clear Mark ink and heat embossed the images in Clear Embossing Powder. After that I put little puffs of Shimmer Powder onto the surface of my work space. I added drops of rubbing alcohol/surgical spirits to the powder and mixed until it was a consistency that I could paint with. I started out using a brush with a thicker tip and quickly decided to switch to a number 2 round brush so that I could easily stay within the lines.
After I finished watercoloring the floral images I used a white gel pen to outline the rectangle defining the sentiment. In hindsight I realize that it would've been much easier to stamp the sentiment onto a rectangle die cut and pop it up as it would've allowed me to be a bit less careful when I embossed the images. Anyhow, that's something for me to try next time. Then I used some white acrylic paint, and the leftover shimmer powders to splatter the background. I added Nuvo Crystal Drops in Neptune Turquoise to finish it off and mounted the card front onto some gorgeous Pearlescent Card from the Craft Perfect line (Fresh Mint). This cardstock is textured and shimmery and was the perfect compliment to the card front. After that I mounted the whole thing onto a black card base using foam adhesive to give the card a bit of dimension.
Here's that video I promised you...
Well, that's it for today you guys! It's late and I am wicked tired so I'm heading off to bed. I'm adding product links below in case you are interested in checking out anything that I've used for today's project. There are links to both the UK and USA Tonic stores (just scroll until you find your preferred shop). Thank you!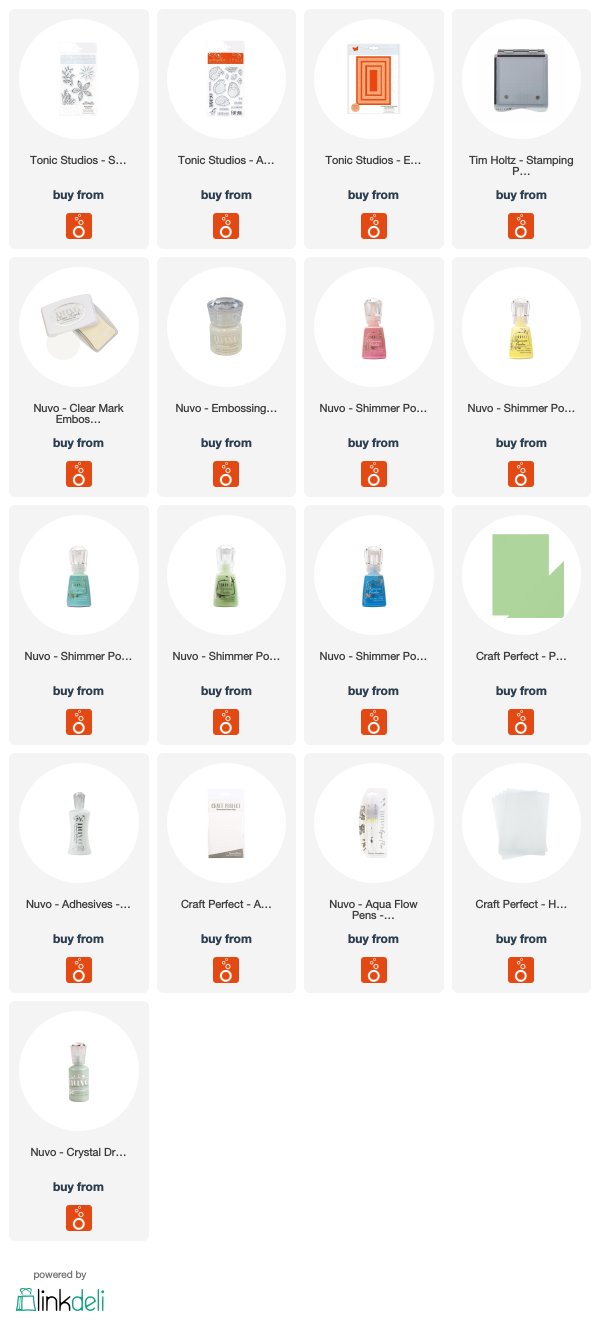 SUPPLY LIST: TONIC USA & OTHER SHOPS